ANGELSHORN Bluetooth Record Player Vinyl Turntable with Vintage Stereo 2-Speed Built-in Phono Preamp and Belt Drive, Walnut Wood
1. Solid Iron Platter: Precision-manufactured iron platter produces uniform inertial mass for perfect stability and rotation;
2. Two-Speed Turntable (33 1/3 And 45 Rpm):A DC servo motor and belt drive system can spin the iron turntable at 33 1/3 or 45 RPM speeds;
3. Traditional Style: Wood Appearance, Dust Cover, Classic Turntable Design With Modern Technology - A Balanced Blend Of Modernity And Mid-Century Charm, With Key Modern Features;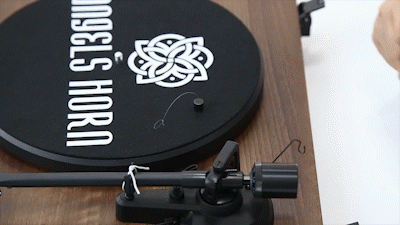 4. Advanced Anti: Skating system Coupled with the tonearm bearings' fluid movements practically caresses the vinyl, preventing scratches ensuring the stylus rests perfectly in the record's groove;
5. Adjustable Counterweight & Anti-Skating Force: Essential for any serious classic Turntable. Tonearm counterweight coupled with the advanced anti-skating system produces smooth stylus movement and tunes out skipping and distortion;
6. Great Connectivity: The AngelsHorn turntable offers a switchable Phono/Line output, Turntable base features a built-in amplifier and switchable preamp, Pre-amplifier allows connection to your externally-powered speakers via the dual RCA output cables, which enables you to play vinyl records over a stereo system without Phono input or manually over the Phono Preamplifier;
7. Vinyl Recording Via PC: Connect this turntable to your computer via USB and the digital USB output gives you the opportunity to archive and encode vinyl audio into MP3s for saving your analogue record collection digitally in CD quality and playback on your computer, smartphone or tablet.